Hello, I'm Dr. Stacy Mobley! My mission is to guide trailblazing, go-getter women (both entrepreneurs and professionals) to living a lifestyle that they love BEFORE retirement. Whether you're building a business or aiming for a promotion, you deserve to have a clear mind, sound sleep, and more than enough energy to get through your daily tasks, and hang out with loved ones before the day is done.
I spent the last eight plus years studying integrative medicine so that you don't have to.
I'm a licensed Naturopathic Doctor, Certified Ayurvedic Counselor and Certified Divine Living Coach (a.k.a. life and business coach). Oh, and yes, I do hold a Master of Public Health as well.  Yep, that means my professional level degree is actually for studying medicine, not religion or some other cool, yet unrelated topic to what I do.  This isn't just "weekend course" knowledge; this is the real deal.
Think of me as another member of your support team. You have your virtual assistant, online business manager, web designer, tech support, personal assistant, and now, a doctor who gets it… and more importantly, who gets you.
I get you, because I've been there.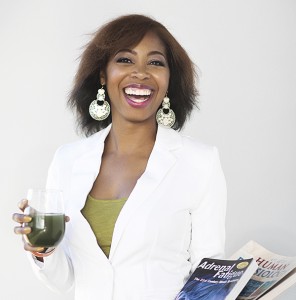 You're aware of your gifts and talents. You're speaking, consulting, or building a business that helps you share those gifts and talents with the world. You have a vision and it's big. People think that you're filled with abundant energy (mainly because your passion drives you, right?), yet you feel like you're running on empty more often than not. Maybe your doctor told you that everything's fine, "your probably just 'too busy' and should slow down or take a break." Yet your passion won't allow you to do this because you have important things to create. Plus, deep down you know it's more than that.
I hear you, because I've been there. I had doctors telling me I was fine, and meanwhile my adrenals were flat lined, my thyroid tanking, and my gut a huge mess. From a smoking, 390,000 mile car named "Latisha", to running out of student loan money to cover my education with less than a year to medical school graduation, stress, overwhelm, and burnout were real for me.
I made it through life and school on what I refer to as "passion fumes" for years. I didn't realize I was actually burning myself out. I was doing something I loved, moving closer and closer to making my vision a reality.  When I would go to my assigned doctor for a check up because something didn't feel right, I was told that I was, and I quote, "a vibrant and healthy young woman." I worked on simply saying okay to what seemed to be a compliment, yet it didn't ring true to my core. I knew something wasn't right, I just didn't know what. 
About two years later, right smack in the middle of medical school, I was burning out again. Another checkup with my doctor revealed, once again, that I was perfectly "fine", while another visit with a different doctor revealed my blood work was normal. She tried to give me anti depressants, anxiety meds, and send me on my way. But this time, I knew better. I decided to turn my focus inward so I could get to the root of the problem I knew existed, whether the doctors and blood work could see it or not.
Now, with all of my seriously awesome medical schooling and training (both integrative and traditional), I know there's so much more to blood work than the standard "reference ranges." We're all so different, and there are ways to catch things before they happen. Blood work combined with truly understanding what is happening in a patient's life gives us all the insight and information needed to keep them sane, and healthy (both mentally and physically) before something major happens. I'm so grateful to be equipped with this info to help other passionate women like myself.
What I've learned is this: You don't have to stop going after your dreams to avoid burnout.
I guide my clients to reconnect to themselves with the same level of passion as they do their visions, by looking at all areas within themselves (physical, mental, emotional, and spiritual). No, this does not always have to involve the "om" pose, though I enjoy "active" (meaning I can't sit in one place) meditation myself and feel it's a great tool. It's about finding the tools, strategies, and healing/healthy living modalities that are right for each individual's needs, and implementing them so they can feel more vibrant, healthy, alive, and on fire—long term.
I use specialized lab testing, my in-depth "deep dive" client packet, and other essential tools to help my clients get clear on what's blocking them from experiencing their true success, sound sleep, and the expansive energy they deserve and desire.
I work privately with go-getter women who are motivated to avoid their first or next round of burnout. If this sounds like you and you're ready to do what it takes to keep you and your message alive, let's talk.
Book your complimentary discovery session now by clicking here.
Curious to learn more about me?
Here are some fun facts to hold you over:
I used to drop my Flintstones vitamins in the vent and stuff my vegetables under the table growing up (I didn't care for vegetables growing up, and more of them ended up in the air and heating vents than in my belly) — now I happily eat veggies and supplements! Except French fries—they give me the hiccups.
I don't like people to touch my food while I'm eating it (or stick their fork that they had their mouth on in my food)—ewww.
Least favorite foods: bananas, mushrooms, and any melon (including watermelon).
I am a massive introvert. I love my space and people too (in chunks). Despite this, I love to speak and share my passion for women's empowerment, health and wellbeing – every day, not just on special occasions.
I dislike the taste of milk yet love ice cream (coconut or the other kind)
I love trying different varieties of teas – hot – not cold, despite being a Southern Belle by birth. No iced teas or collards for me.
My favorite drinks: water, Chai Latte with coconut milk, and a glass of White Zinfandel. In that order
I have a complete fascination with the levitation ability of planes and ships (amazing! Despite their weight). Seriously, reminds us that we can do anything!
Despite being a massive introvert and not a natural small talker, I can chat all day about life, travel, and philosophy.
I traveled to over 18 countries before the age of 21, and still have more of the world I want to see.  This is one reason why I love to host and speak at mind-blowing retreats around the world.
I love to read books that I can touch.
I can make up words and they sound real.
I love hot wings!!!
The idea of being stuck in an office all day drives me bonkers. I like to be more creative with where I meet my clients, including Skype, phone, or some rejuvenating, energizing, and beautiful location.
I'm a women's empowerment junkie!